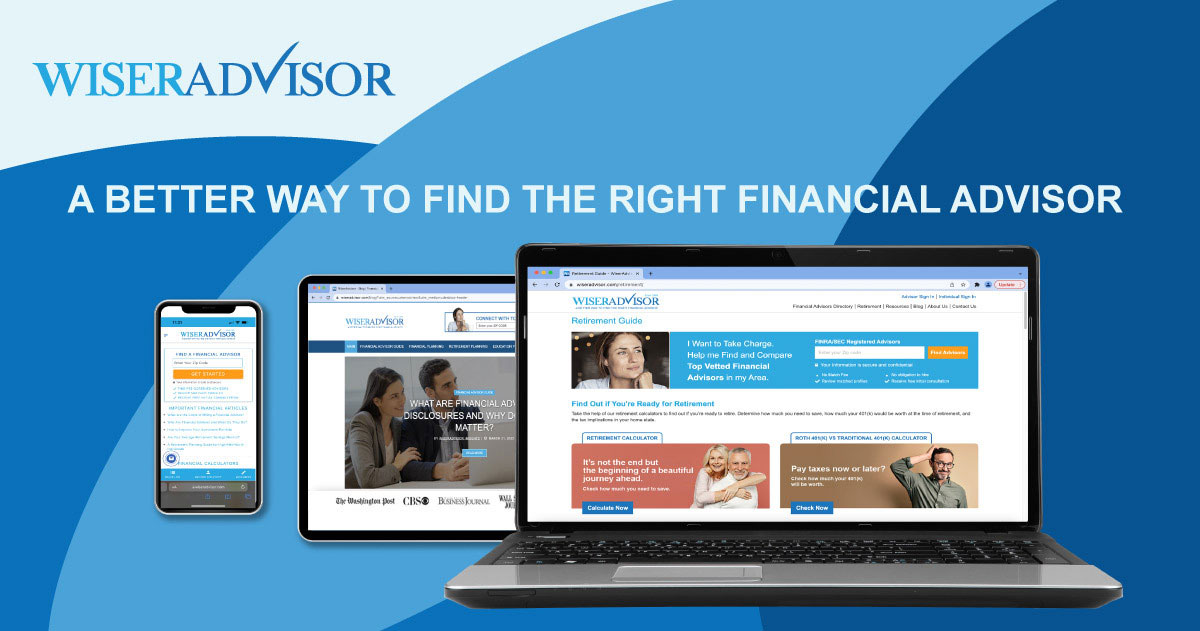 Welcome to the WiserAdvisor Affiliate Program:
WiserAdvisor is a leading provider of the "Find an Advisor" service with over 20 years of experience matching consumers to vetted financial advisors nationwide. This free service provides consumers with 2 to 3 vetted advisor options to compare and choose from for financial services ranging from retirement planning, financial planning, investment management, education planning, estate planning, 401k rollovers etc.
When you join our program, you're instantly gaining a new, free resource to share with your audience.
The user experience with WiserAdvisor is straightforward and efficient. They'll land on the main match page and will start their needs assessment by providing their zip code. The assessment takes 2-3 minutes and gathers high-level insights on the users' current financial assets and goals.
Once they finish their assessment, they get a text, email, and/or call to reconfirm their information and acknowledge that they're interested in receiving potential financial advisors to work with.
From there a user will personally connect with 2 to 3 potential advisors that were hand-picked based on the information they provided in the assessment. This allows them to pick which advisor they felt best fit their needs and start their journey into financial growth and freedom!
How it works:
A user will land on WiserAdvisor and complete the needs assessment. Once a user completes this, they will be considered a lead and you'll be issued a commission.
Who should sign up?
Financial and investment focused websites, lead gen platforms, email marketers and anyone with an online audience interested in growing their financial portfolio, getting an advisor or just in general securing financial peace of mind for their family in an economical way.
Publishers with Businesses offering complementary products/services.
Why sign up?
Develop a partnership with a long standing, financial wellness leader looking to help individuals grow their investments and financial health.
Dedicated program manager to help you get started and grow your earnings.
Our program pays on a CPL and are open to scale with quality.
How to sign up?
Apply through Everflow using the button below!
Join Now