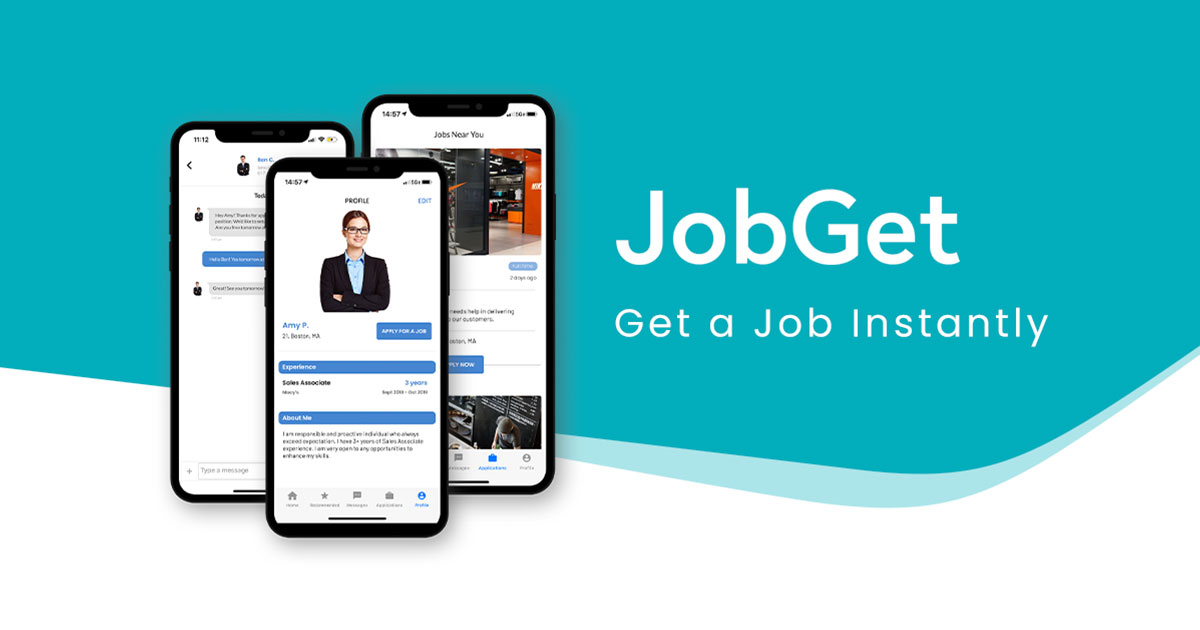 Welcome to the JobGet Affiliate Program
JobGet is a mobile first platform established to reshape the job hiring space. A user downloads the app, registers as a jobseeker, applies for a job, interviews and receives the position all in the app.. Sometimes under 24 hours. They've been cited as a 2019 Global Winner of the MIT Inclusive Innovation Challenge and work closely with local organizations as a resource.
They compete with top job search apps like Indeed, Snagajob, and ZipRecruiter, and add in their own style of innovation. This solution is open for any job seeker across the US in any situation, and is a great offer for your audience.
By partnering with and promoting JobGet, you will be helping better the financial lives of your audience and following!
How it works:
The user experience is simple and efficient. Visitors of your website or followers of your social account click an affiliate tracking link, download the JobGet app, register as a candidate, and begin applying to the thousands of local jobs. The JobGet affiliate program operates with more flexibility as it offers two unique options to earn commissions: Option 1: Get paid $3 for each user that registers or Option 2: Get paid $7 when a user registers for an account and applies for their first job.
We'll confirm your preferred payout after you've joined the program!
Who should sign up?
Websites, influencers, app owners and anyone with an online audience interested in finding a new job and bettering their financial health.
Businesses and apps offering complementary products/services.
Why sign up?
Develop a partnership with a company looking to reshape the job search space.
Ongoing support from your experienced Vibrant Performance account manager.
Multipoint commission structure on a trusted platform.
How to sign up?
Sign up for Impact if you're not already a user and then submit an application to the JobGet program:
Join Now