4
minute read
Vibrant Performance Launches Unifimoney Affiliate Program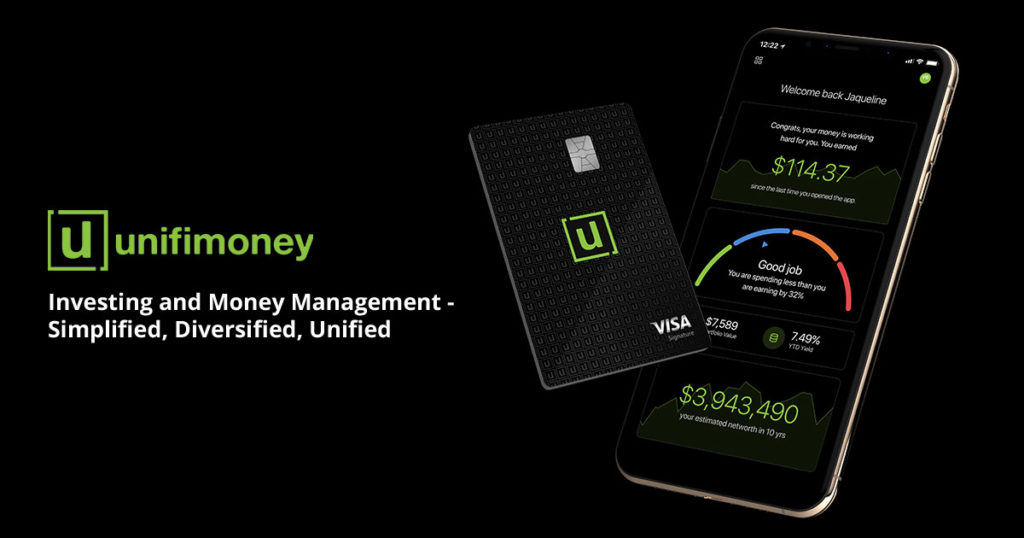 With the world of finance and technology changing all the time, it's important to always stay updated on the latest trends and solutions available. It's not just about how individuals access their money and what type of banking they are using, but also about having the ability to invest in different world currencies, markets and of course, cryptocurrency.
Today, we are going to take a look at the Unifimoney program, what it is, and how you can start earning money by promoting it to your audience through Vibrant Performance.
What is Unifimoney?
Unifimoney is an investment and money management app built to simplify, diversify and unify your money management — all within one easy to use application and platform.
Through the use of Unifimoney, users can effortlessly manage their wealth, while also having access to auto-investing, high-yield checking, commission free trading, and the ability to trade cryptocurrencies and precious metals.
As more audiences tend to make the move away from traditional banking, Unifimoney has quickly taken the lead as an alternative solution that not only provides the same services, but also goes above and beyond traditional banking methods, while also competing against the likes of Robinhood, Chase and Wealthfront.
What makes Unifimoney unique in a sea of investing/digital banking apps?
In comparison to traditional banking and investment methods, having total control over your own personal wealth and where it's being allocated has never been easier. And what makes this solution even more appealing to users, is that it doesn't come with a heavy barrier of entry like many other investment and trading platforms.
Users can invest with as little as $1 in fractional shares, while also trading across various alternative investments at the same time. Once your account is open and funded, users can start trading right away.
And when it comes to the different investment and trading options available, you can see a list below of the many options available.
● US equities
● ETFs
● American Depository Receipts (ADRs)
● Bitcoin, Ethereum, Dogecoin, and more than 30 other crypto tokens
(via Unifimoney's partner Gemini)
● Gold, silver, copper, and other precious metals
With so many different trading options available under one platform, it's simply the easiest and most efficient way to start investing — no matter your experience or the amount of money you have to invest.
It's also important to mention that Unifimoney is the only multi asset investment app that supports passive AND active investing — which means it has the ability to automatically invest for you. This can be done through their Basic (default) or Advanced Robo Investing options right within the application and platform.
As mentioned by TheMoneyManual, Unifimoney also provides users with many other features and advantages that traditional banking and investment solutions can't compare with. Such features and advantages include:
● Student Loan Refinancing: Unifimoney customers with student loans get access to a refinancing program and access to a $2,500 cash bonus.
● Home Loans and Refinancing: Get access to a .5% discount off a loan and a free home management platform.
● Car And Vehicle Loans: Unifimoney customers can earn .50% cash back on any car, bike, boat, plane, motorbike, RV, or other vehicle loans taken out via their partner program.
● Home Improvement Loans: Get up to a $1,000 bonus on a home improvement loan taken through Unifmoney's partner program.
● Car Insurance: Apply for a quote via Unifimoney's partner Gabi and get a $15 Bitcoin credit.
● HSA: Get access to a Health Savings Account [HSAs] with no monthly fee and 1% cash back on the first transfer.
With all of these features and solutions in place, Unifimoney is taking the guesswork out of personal wealth management and finances, while also going above and beyond where traditional banking solutions have been lacking.
Unifi Premier – A Premium Credit Card
In addition to the many different banking and investment services offered by Unifimoney, they also have a premium credit card that will soon be available in Q3 2021 with a phased rollout to Unifimoney customers.
However, with so many credit and debit cards already out there, it was important for Unifimoney to create something different — and not just try to leverage high transaction fees and late charges like most credit card companies.
The Unifimoney Visa Credit Card will provide it's cardholders with the ability to re-invest on a daily basis, while using their card for regular everyday payments. Cashback options will also be available, which can be redeemed as Gold, Bitcoin or Equity. Every card will also be made from recovered ocean bound plastic, and will also come with the VISA signature benefits that many card holders are used to.
Unifimoney Target Audience
For websites, publishers and media partners looking to promote the Unifimoney offer, it's important to know who their target audience is.
Unifimoney is ideal for anyone looking to invest, but it is specifically geared towards wealthy young professionals, who are looking to invest with the latest technology and solutions available. These people are typically cardholders of premium credit cards like Chase Sapphire Reserve and American Express Platinum. Also, these users are typically environmentally conscious global consumers. In fact, this isn't just the 'target audience' for Unifimoney, it's actually the focus and foundation for why the program was started.
With more debt out there than ever before, Unifimoney has spent endless hours trying to capture not only who their target audience is, but how they can cater to their needs, while providing superior service and solutions in the process.
With the ability for users to actively or passively invest their money on their own terms, this is ideal for younger audiences, and seasoned investors alike. No matter the expertise or professional level in the world of personal finance and wealth, Unifimoney has built a solution that is easy to use, while also offering professional investing services that many users are already used to.
Interested in partnering with Unifimoney? Click here for more details and to sign up for the Unifimoney affiliate program.